The demon Lilith has been destroyed and Jace has been freed from her captivity. But when the Shadowhunters arrive to rescue him, they find only blood and broken glass. Not only is the boy Clary loves missing–but so is the boy she hates, Sebastian, the son of her father Valentine: a son determined to succeed where their father failed, and bring the Shadowhunters to their knees.

No magic the Clave can summon can locate either boy, but Jace cannot stay away—not from Clary. When they meet again Clary discovers the horror Lilith's dying magic has wrought—Jace is no longer the boy she loved. He and Sebastian are now bound to each other, and Jace has become what he most feared: a true servant of Valentine's evil. The Clave is determined to destroy Sebastian, but there is no way to harm one boy without destroying the other. Will the Shadowhunters hesitate to kill one of their own?

Only a small band of Clary and Jace's friends and family believe that Jace can still be saved — and that the fate of the Shadowhunters' future may hinge on that salvation. They must defy the Clave and strike out on their own. Alec, Magnus, Simon and Isabelle must work together to save Jace: bargaining with the sinister Faerie Queen, contemplating deals with demons, and turning at last to the Iron Sisters, the reclusive and merciless weapons makers for the Shadowhunters, who tell them that no weapon on this earth can sever the bond between Sebastian and Jace. Their only chance of cutting Jace free is to challenge Heaven and Hell — a risk that could claim any, or all, of their lives.

And they must do it without Clary. For Clary has gone into the heart of darkness, to play a dangerous game utterly alone. The price of losing the game is not just her own life, but Jace's soul. She's willing to do anything for Jace, but can she even still trust him? Or is he truly lost? What price is too high to pay, even for love?

Darkness threatens to claim the Shadowhunters in the harrowing fifth book of the Mortal Instruments series.
Hardcover
and
eBook
Jagger plans to open a new club in Dullsville. But is it Raven's dream come true or a nightmare? The morbidly monotonous Dullsville has finally become the most exciting place on earth, now that Raven is madly in love with Alexander and a crew of vampires has taken residence in Dullsville's old mill. But Raven can't decide whether Jagger's plan to open a new club, the Crypt, is a good one. Can Raven convince Jagger to listen to her plans to make the Crypt the morbidly magnificent party space it could be? Will it be safe for mortals and vampires alike? And as Sebastian and Luna's relationship heats up, Raven wonders about her own amorous fate: Will Alexander ever turn her? Does he crave her and does he want to spend eternity together? And what does she really want? Paperback Athena "Stormy" Sterling is coming to Dullsville, and Raven is both excited and panicked in anticipation of Alexander's little sister's visit. Alexander tells Raven that she and his sister have a lot in common, but can the mini-Raven be everything she hopes for? Alexander calls her Stormy for a reason.

Stormy's visit stirs up the perfect immortal whirlwind. Raven is forced to take a good look at what it would really mean to be a vampire in the Sterling family, aside from some of the things she already loves, like shunning the sun and sleeping in a coffin with Alexander. When Raven compares her life with Stormy's, she can see that it's not all starry skies and black roses. But Raven knows she's always wanted to be a vampire.

Alexander is as romantic and dreamy as ever, and though he keeps showing Raven how much he loves her, will she ultimately be able to convince him that it's the right thing to turn her?

This final chapter of Vampire Kisses' nocturnal romance will keep all mortal and immortal hearts racing.

Hardcover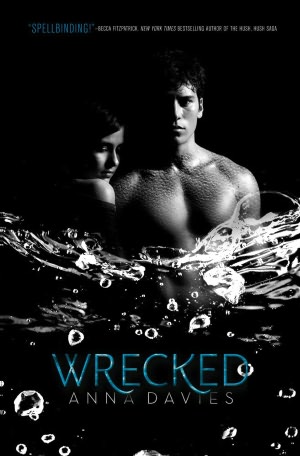 Secrets of the sea have never been sexier than this.
Ever since the death of her parents, Miranda has lived on Whym Island, taking comfort in the local folklore, which claims a mysterious sea witch controls the fate of all on the island and in its surrounding waters. Sometimes it's just easier to believe things are out of your control.
But then a terrible boating accident takes the lives of several of her friends, and Miranda is rescued by a mysterious boy who haunts her dreams. Consumed by guilt from the accident, she finds refuge in late-night swims—and meets Christian, a boy who seems eerily familiar, but who is full of mystery: He won't tell her where he is from, or why they can only meet at the beach. But Miranda falls for him anyway…and discovers that Christian's secrets, though meant to protect her, may bring her nothing but harm.
Seductive and compelling, Wrecked brings a contemporary, paranormal twist to a classic enchanting tale.
Hardcover
For thirty-five girls, the Selection is the chance of a lifetime. The opportunity to escape the life laid out for them since birth. To be swept up in a world of glittering gowns and priceless jewels. To live in the palace and compete for the heart of the gorgeous Prince Maxon.

But for America Singer, being Selected is a nightmare. It means turning her back on her secret love with Aspen, who is a caste below her. Leaving her home to enter a fierce competition for a crown she doesn't want. Living in a palace that is constantly threatened by violent rebel attacks.

Then America meets Prince Maxon. Gradually, she starts to question all the plans she's made for herself- and realizes that the life she's always dreamed of may not compare to a future she never imagined.
Hardcover
Mirabelle's past is shrouded in secrecy, from her parents' tragic deaths to her guardians' half-truths about why she can't return to her birthplace, Beau Rivage. Desperate to see the town, Mira runs away a week before her sixteenth birthday—and discovers a world she never could have imagined.
eBook
Even angels make mistakes in this page-turning epic romance

When her parents are murdered before her eyes, sixteen-year-old Helen Cartwright finds herself launched into an underground London where a mysterious organization called the Dictata controls the balance of good and evil. Helen learns that she is one of three remaining angelic descendants charged with protecting the world's past, present, and future. Unbeknownst to her, she has been trained her whole life to accept this responsibility. Now, as she finds herself torn between the angelic brothers protecting her and the devastatingly handsome childhood friend who wants to destroy her, she must prepare to be brave, to be hunted, and above all to be strong, because temptation will be hard to resist, even for an angel.

Michelle Zink masterfully weaves historical fantasy with paranormal romance to create a gripping tale of love and betrayal.
Hardcover
Hardcover
Humans and androids crowd the raucous streets of New Beijing. A deadly plague ravages the population. From space, a ruthless lunar people watch, waiting to make their move. No one knows that Earth's fate hinges on one girl. . . .
Getting drunk homecoming night your senior year is never a good idea, but Jake Hayes never expected it all to end with a car crash and a t-post embedded in his throat.

His biggest regret about it all? What he never said to Samantha Shay. He's been in love with her for years and never had the guts to tell her. Now it's too late. Because after that night, Jake will never be able to talk again.

When Jake returns to his small island home, population 5,000, he'll have to learn how to deal with being mute. He also finds that his family isn't limited to his six brothers and sisters, that sometimes an entire island is watching out for you. And when he gets the chance to spend more time with Samantha, she'll help him learn that not being able to talk isn't the worst thing that could ever happen to you. Maybe, if she'll let him, Jake will finally tell her what he didn't say before, even if he can't actually say it.
eBook
Sixteen year old Julia Phillips buries herself in guilt after killing her best friend Monica in a car accident. Julia awoke in the hospital with a broken leg, a new talent for drawing and false memories of the accident, in which she dies and Monica lives. The doctors attribute this to her head injury, but no one can explain how a bracelet engraved with her name ended up at the scene of the accident. A bracelet no one has ever seen before.

Classmate Evan Whittaker paid Julia no attention before the accident, let alone after. Now suddenly he's volunteering to tutor her and offering to drive her home. She can't ignore that his new obsession started after his two-day disappearance last week and that he wears a pendant she's been drawing for months. When the police show up one night looking for Evan, he begs Julia to run with him, convincing her that Monica is still alive. Julia agrees to go, never guessing where he's really from.

eBook
Ever since her sixteenth birthday, strange things keep happening to Seraphina Parrish.

The Lady in Black burns Sera's memories.

Unexplainable Premonitions catapult her to other cities.

The Grungy Gang wants to kill her.

And a beautiful, mysterious boy stalks her.

But when Sera moves to Chicago, and her aunt reveals their family connection to a centuries old, secret society, she is immediately thrust into an unbelievable fantasy world, leading her on a quest to unravel the mysteries that plague her. In the end, their meanings crash into an epic struggle of loyalty and betrayal, and she'll be forced to choose between the boy who has stolen her heart and the thing she desires most.

Wander Dust is the breathtaking fantasy that will catapult you through a story of time, adventure, and love.
eBook
Monsters. Bloodsuckers. The evil. The damned. Eryn McCain knows they exist— she's been hunting them since she was a child. At sixteen, she's ready to take on all comers. Being a shapeshifter gives her an advantage when it comes to her unusual part-time job. The hours suck and the pay is, well, non-existent, but bonuses like inhuman strength and night vision make tracking scary beasties a dream come true. Especially in a town like Redgrave.

When an ancient demon targets Redgrave High, Eryn and her crew of hunters must face their innermost fears to prevent the Harvest Moon Dance from becoming one serious Monster Mash. Loyalties are tested and temptations abound. With questions ever brewing, can Eryn share a future with the brooding, noble, human Alec—the hunter after her heart? Or will she succumb to her enemy's son, Wade, a seductive predator as bloodthirsty as she is?

What happens when you're both the beauty and the beast?
eBook
Author Jillian Peery takes you back to the magical world of PineLight in the heart-pounding sequel, TigerLily.

They were mortal enemies. And I loved them both.

It was my curse, an unending punishment, and a waste of my heart. Finn and Edmund were a part of me, running through my bloodstream like sweet adrenaline, keeping me alive. All of our past, present, and future intertwined like an ever-growing grapevine. Both were forbidden, but my heart didn't care. It would only be a matter of time before these two passions ripped me apart.
eBook
Meet Corrinne. She's living every girl's dream in New York City—shopping sprees at Barneys, open access to the best clubs and parties, and her own horse at the country club. Her perfect life is perfectly on track. At least it was. . .