Bought:
Giant angels with metal wings and visible song. A blind demon restored from the pit of darkness. And a girl who has never felt more broken.
Brielle sees the world as it really is: a place where the Celestial exists side by side with human reality. But in the aftermath of a supernatural showdown, her life begins to crumble.
Her boyfriend, Jake, is keeping something from her—something important. Her overprotective father has started drinking again. And he's dating a much younger woman who makes Brielle's skin crawl. Haunting nightmares invade Brielle's sleep, and flashes of Celestial vision keep her off kilter.
What she doesn't know is that she's been targeted. The Prince of Darkness himself has heard of the boy with healing in his hands and of the girl who sees through the Terrestrial Veil.
Brielle has no choice. She knows evil forces are converging and will soon rain their terror down on the town of Stratus. She must master the weapons she's been given. She must fight.
But can she fly with broken wings?
eBook
Sixteen-year-old Lex Bartleby is a teenage grim reaper with the bizarre ability to damn souls. That makes her pretty scary, even to fellow Grims. But after inadvertently transferring her ability to Zara, a murderous outlaw, Lex is a pariah in Croak, the little town she calls home.

To escape the townspeople's wrath, she and her friends embark on a wild road trip to DeMyse. Though this sparkling desert oasis is full of luxuries and amusements, it feels like a prison to Lex. Her best chance at escape would be to stop Zara once and for all—but how can she do that from DeMyse, where the Grims seem mysteriously oblivious to Zara's killing spree?
eBook
High school freshman Jessica Walsh is a Virago—a woman warrior who must protect her hometown from danger. And in Nightshade, California, trouble is always lurking. At the town's Battle of the Bands, Jess's boyfriend, Dominic, and his band, Side Effects May Vary, are up against Hamlin, a band so popular, their fans follow them everywhere. Soon, the competing musicians are doing risky, illegal, and even fatal things—and claiming that they heard strange music that compelled them to do it. Can Jess and her friends track down the tuneful tyrant before it's too late?
eBook
Celia Reynolds is the youngest in a set of triplets and the one with the least valuable power. Anne can see the future, and Jane can see the present, but all Celia can see is the past. And the past seems so insignificant -- until Celia meets Lo.
Lo doesn't know who she is. Or who she was. Once a human, she is now almost entirely a creature of the sea -- a nymph, an ocean girl, a mermaid -- all terms too pretty for the soulless monster she knows she's becoming. Lo clings to shreds of her former self, fighting to remember her past, even as she's tempted to embrace her dark immortality.

When a handsome boy named Jude falls off a pier and into the ocean, Celia and Lo work together to rescue him from the waves. The two form a friendship, but soon they find themselves competing for Jude's affection. Lo wants more than that, though. According to the ocean girls, there's only one way for Lo to earn back her humanity. She must persuade a mortal to love her . . . and steal his soul.
eBook
Kaleb Ballard was never supposed to be able to see ripples—cracks in time. Are Kaleb's powers expanding, or is something very wrong? Before Kaleb can find out, Jonathan Landers, the man who tried to murder his father, reappears. Why is he back, and what, or whom, does he want?

In the wake of Landers's return, the Hourglass organization is offered an ultimatum by a mysterious man. Either they find Landers and the research he has stolen on people who might carry the time gene, or time will be altered—with devastating results for the people Kaleb loves most.

Now Kaleb, Emerson, Michael, and the other Hourglass recruits have no choice but to use their extraordinary powers to find Landers. But where do they even start? And when? Even if they succeed, just finding him may not be enough. . . .
eBook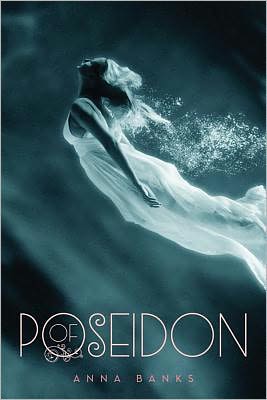 Galen, a Syrena prince, searches land for a girl he's heard can communicate with fish. It's while Emma is on vacation at the beach that she meets Galen. Although their connection is immediate and powerful, Galen's not fully convinced that Emma's the one he's been looking for. That is, until a deadly encounter with a shark proves that Emma and her Gift may be the only thing that can save his kingdom. He needs her help—no matter what the risk.
eBook
Ever Harding has finally found where she belongs, with Jack in the sea. Just when she thought she could start her new life, a new threat forms on the horizon.
She must make her biggest choice yet. Is she willing to risk everything to save the love of her life and all she holds dear?

James discovers yet again that his purpose is greater than anything he could ever imagine. He thought he had it all figured out, but sometimes things can be very deceiving. Is he willing to stand up for all he believes is right?

In the final book of the 'Just Breath' trilogy, Ever and James find themselves not against each other but fighting together to preserve the freedoms of others. Will they be able to defend the right to choose when the odds are hugely against them?
eBook