Bought:


The sequel to Rift and the prequel to the New York Times bestselling novel Nightshade.

Everything Conatus stands for is at risk. Hoping to gather enough resistance to save their order, Ember and Barrow attempt a desperate escape. But fate offers little mercy. When their mission is exposed, the couple face relentless pursuit by the supernatural horrors that act on the commands of Eira's ally: the mysterious Bosque Mar. A shocking revelation forces Ember out of hiding, sending her back into the heart of dark magic at Tearmunn keep, where she must convince her old friend Alistair of her love or face dire consequences. Ember's deception offers the only chance for the resistance to succeed, but what she discovers in the shadows beneath the keep will shatter her world and bring about the Witches' War.

Richly sensual and full of magic, action and danger, Andrea Cremer's fifth book set in the Nightshade world is an edge-of-your-seat page turner.
Hardcover
It's been months since Aria learned of her mother's death.
Months since Perry became Blood Lord of the Tides, and months since Aria last saw him.

Now Aria and Perry are about to be reunited. It's a moment they've been longing for with countless expectations. And it's a moment that lives up to all of them. At least, at fi rst. Then it slips away. The Tides don't take kindly to former Dwellers like Aria. And the tribe is swirling out of Perry's control. With the Aether storms worsening every day, the only remaining hope for peace and safety is the Still Blue. But does this haven truly exist?

Threatened by false friends and powerful temptations, Aria and Perry wonder, Can their love survive through the ever night? In this second book in her spellbinding Under the Never Sky trilogy, Veronica Rossi combines fantasy and sci-fi elements to create a captivating adventure—and a love story as perilous as it is unforgettable.
And the scream keeps coming

Don't miss Volume Two of New York Times bestselling author Rachel Vincent's unique and fascinating Soul Screamers series.

MY SOUL TO KEEP

Aside from the whole "I scream when someone is about to die" thing, Kaylee Cavanaugh's life has gotten better. She's getting to know her dad, doing okay in school and has a hot new boyfriend who understands her in every way. Until the hellion Avari starts tempting everyone with an exotic new drug-demon's breath….

MY SOUL TO STEAL

Now on shaky ground with Nash Hudson, Kaylee is taking their relationship easy. But then Sabine-Nash's ex-storms into their lives. She's determined to get Nash back and there's nothing she won't do to remind him of what they had. And since Sabine has special abilities of her own, Kaylee is headed into a battle she's not sure she can win….

REAPER

-First time in print!-

Though Tod Hudson died two years ago, thanks to his job as a Reaper he's never had to move on or let go of his family-no matter how much Nash would like him to! But few people know about how he came to accept the job of claiming souls….
eBook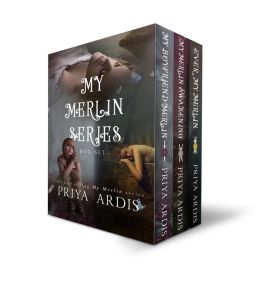 The end of the world. The final battle. And Prom.
The sword of Arthur returns only when the land needs it the most.

This bundle includes the following three novels:
My Boyfriend Merlin, Book 1. He was a little older than he was letting on. By a few eons . . .
Seventeen-year-old Arriane Dulac, aka Ryan, gets more than she can handle when a young Merlin goes to high school to recruit candidates to pull Excalibur from the stone. Life and love gets complicated when Merlin ends up battling his brother, Vane, for control the sword. (Length: 308 pages)

My Merlin Awakening, Book 2. Excalibur has been pulled, but what does it mean? On the trail of the Fisher King, the past meets the present as the rift between the brothers intensifies and we must decide whose side to be on--the brother who struggles to do right or the brother who dares to break the rules. One wrong decision and Ryan loses. One wrong decision and the world does. No pressure. (Length: 340 pages)

Ever My Merlin, Book 3. The conclusion.
He was the right one, the fated one, but was he right for her? Two wizard brothers. One girl. One Healing Cup. One chance to save the world. With every scrap of life hanging in the balance, can a teenage girl reconcile a fifteen-hundred-year rivalry between two brothers and make it to Prom? Which choice leads to doom and which one to salvation? (Length: 412 pages)

Set in today's time, enjoy action/adventure and romance in this mix of Arthurian and Greek mythologies. This bundle of the My Merlin Series consists of three full-length novels. The total series is over a 1,000 pages in length.
eBook
The Moon Omnibus collects the first three volumes of the Moon Series:

Leopard Moon-- Kess, a wereleopard, is forced to flee her home in Miami once her brother's obsession with her turns violent. She meets Cormac, a young man with a secret of his own. But her brother is closing in, threatening Cormac's life and Kess' freedom.

Jackal Moon-- Laila has been pledged to serve the jackal god, Anubis, since she was a child. When her initiation into the Keepers leads her to Miami and pits her against the wereleopard Sekhmet, Laila is cast into a sea of clan intrigue and bitter rivalries. The stakes grow ever higher as rivals and Kess, the true clan leader, descend on Miami to vie for power.

Hyena Moon-- Miami is still in the hands of the wereleopard clan. But things aren't simple for Kess, especially now that she has Samara's son, Rafe, to deal with. While others see only a spy, Kess is determined to help the damaged young man abandoned by his mother. Rafe knows his mother isn't done with Miami or Kess. In the final bloody conflict between wereleopard and hyena, which side will he choose?
eBook
Their power gives them strength . . . and makes them targets.

Quinn Caldwell is the epitome of a modern goddess. Her power source is the moon, her abilities restricted only by physical resources and lunar phase. She runs a consulting business and her father's bar, serves on the board of the ancient Society for Goddess Education and Defense, and yearns for Nick Jarrett, professional goddess protector and the soul mate she can never have.

But someone has developed the rare and difficult ability to drain a goddess of her powers, and Quinn is a target. With the world thinking Nick has gone rogue (whatever that means) and that Quinn is influenced by "family ties" she didn't know she had, keeping themselves safe while working to find the enemy proves harder each day.

But not as hard as denying their hearts . . .
eBook
Received:
R.A.K. (Dream Dark (Caster Chronicles, #2.5) by Kami Garcia & Margaret Stohl) from Tynga @ Tynga's Reviews
Thank You!
When Link joined his best friend, Ethan Wate, on a quest through a mysterious network of underground passageways endlessly crisscrossing the South, he knew the journey would be dangerous. But returning home to Gatlin, South Carolina was just the beginning...

Wounded during a climactic battle, Link discovers that tending his injuries won't be as simple as visiting a doctor and that healing his arm should be the least of his worries. For being bitten by a Supernatural does more than break the skin -- it changes a person, inside and out, turning Link into someone more and more like the dark creature who injured him.

In this never-before-seen short story by New York Times bestselling authors Kami Garcia and Margaret Stohl, listeners witness Link's heart-racing transformation. Dream Dark is set before the much-anticipated third Beautiful Creatures novel, Beautiful Chaos, and as a special bonus includes an exclusive sneak peek at the first five chapters.
eBook
R.A.K. (Betrayals in Spring (The Last Year, #3) by Trisha Leigh) from
Amy @
Books, College, and Other Random Things
Thank You!
Althea assumes now that she, Pax, and Lucas are reunited in spring that the next steps are obvious - locate Deshi and prepare to take down the Others once and for all. But she doesn't expect the subtle changes in Lucas.

After being left alone last season with only his Element father for company, Lucas has started to question whether their rightful place isn't with the strange alien race as opposed to humanity. When an emergency forces Lucas to aid the Others so they can remain on Earth, Althea worries that she's lost him once and for all.

The one thing she knows is that Deshi's the key to any hope of reclaiming the planet. So as the Others gut their already wobbly support system, Althea and Pax gather together the beginnings of a plan - and maybe an army.

Even if she can convince Lucas their side is the right one, the Prime Other holds Deshi captive and shrouds any knowledge about their fourth in clouds of secrecy. What they discover deep underground is a roadblock they didn't expect - and one that could steal their last hope of saving humanity.
R.A.K. (
Greta and the Goblin King (Mylena Chronicles, #1) by Chloe Jacobs and
Tainted Blood (The Brookehaven Vampires, #3) by Joann I. Martin Sowles) from
Barbara @
Basia's Bookshelf
Thank You!
While trying to save her brother from the witch three years ago, Greta was thrown into the fire herself, falling through a portal to a dangerous world where humans are the enemy, and every ogre, goblin, and ghoul has a dark side that comes out with the full moon.
To survive, 17-year-old Greta has hidden her humanity and taken the job of bounty hunter—and she's good at what she does. So good, she's caught the attention of Mylena's young Goblin King, the darkly enticing Isaac, who invades her dreams and undermines her determination to escape.
But Greta's not the only one looking to get out of Mylena. The full moon is mere days away, and an ancient evil being knows she's the key to opening the portal. If Greta fails, she and the boys she finds stranded in the woods will die. If she succeeds, no world will be safe from what follows her back . . .
Tainted Blood is the third installment in The Brookehaven Vampires series:

Laney's life is suddenly tangled by deceit, and as she tries to pull her past, present, and future together, she finds herself and her friends fighting for their lives. Thrown into the midst of a conflict that has been brewing for centuries—a conflict that no mere human should be anywhere near—Laney and her friends will discover that the mythical creatures of lore are not so mythical after all.

As Carter and Kiera's relationship moves forward, Laney and Oliver's becomes strained . . . confusing . . . dangerous.

Laney would have never thought Oliver was capable of causing such pain, such heartache, such fear. When he becomes a danger to everyone they know, especially her, Laney must make the choice to save herself, or those she loves.

As if this weren't enough, a visit from Oliver's brother could bring Laney's life to a tragic end.