The second thrilling installment in Richelle Mead's Vampire Academy spinoff series

Tough, brainy alchemist Sydney Sage and doe-eyed Moroi princess Jill Dragomir are in hiding at a human boarding school in the sunny, glamorous world of Palm Springs, California. The students--children of the wealthy and powerful--carry on with their lives in blissful ignorance, while Sydney, Jill, Eddie, and Adrian must do everything in their power to keep their secret safe. But with forbidden romances, unexpected spirit bonds, and the threat of Strigoi moving ever closer, hiding the truth is harder than anyone thought.

Populated with new faces as well as familiar ones, Richelle Mead's breathtaking Bloodlines series explores all the friendship, romance, battles, and betrayals that made the #1 New York Times bestselling Vampire Academy series so addictive. In this second book, the drama is hotter, the romances are steamier, and the stakes are even higher.
Hardcover
RAPTURE, the fourth & final FALLEN novel, is the Lauren Kate book the world has been waiting for.

The sky is dark with wings . . . .

Like sand through an hourglass, time is running out for Luce and Daniel. To stop Lucifer from erasing the past, they must find the place where the angels fell to earth.

Dark forces are after them, and Daniel doesn't know if he can do this—live only to lose Luce again and again. Yet together they face an epic battle that will end with lifeless bodies . . . and angel dust. Great sacrifices are made. Hearts are destroyed.

And suddenly Luce knows what must happen. For she was meant to be with someone other than Daniel. The curse they've borne has always and only been about her—and the love she cast aside. The choice she makes now is the only one that truly matters. In the fight for Luce, who will win?

The astonishing conclusion to the FALLEN series. Heaven can't wait any longer.
Hardcover
What if you were mankind's last chance at survival?

Sixteen-year-old Tess lives in a compound in what was once the Western United States, now decimated after a devastating fourth World War. But long before that, life as we knew it had been irrevocably changed, as women mysteriously lost the ability to bring forth life. Faced with the extinction of the human race, the government began the Council of Creators, meant to search out alternative methods of creating life. The resulting artificial human beings, or Chosen Ones, were extraordinarily beautiful, unbelievably strong, and unabashedly deadly.

Life is bleak, but uncomplicated for Tess as she follows the rigid rules of her dystopian society, until the day she begins work at Templeton, the training facility for newly created Chosen Ones. There, she meets James, a Chosen One whose odd love of music and reading rivals only her own. The attraction between the two is immediate in its intensity—and overwhelming in its danger.

But there is more to the goings-on at Templeton than Tess ever knew, and as the veil is lifted from her eyes, she uncovers a dark underground movement bent not on taking down the Chosen Ones, but the Council itself. Will Tess be able to stand up to those who would oppress her, even if it means giving up the only happiness in her life?
eBook
Three curses. Two brothers. One love triangle.
Sometimes love is meant to be. But sometimes . . . love is the death of you.

Seventeen-year-old Scarlet has just died. Only, dying isn't unusual for a girl under a centuries old curse that left her semi-immortal.

This time, though, she comes back to her current life instead of awaking in a new one, and she realizes her curse is changing. With the help of the immortal Archer brothers, Scarlet tries to piece together her life and break the curse before her impending death comes again.

eBook
He's b-a-a-ack! Despite their best efforts, Carter and Sade Kane can't seem to keep Apophis, the chaos snake, down. Now Apophis is threatening to plunge the world into eternal darkness, and the Kanes are faced with the impossible task of having to destroy him once and for all. Unfortunately, the magicians of the House of Life are on the brink of civil war, the gods are divided, and the young initiates of Brooklyn House stand almost alone against the forces of chaos. The Kanes' only hope is an ancient spell that might turn the serpent's own shadow into a weapon, but the magic has been lost for a millennia. To find the answer they need, the Kanes must rely on the murderous ghost of a powerful magician who might be able to lead them to the serpent's shadow . . . or might lead them to their deaths in the depths of the underworld.

Nothing less than the mortal world is at stake when the Kane family fulfills its destiny in this thrilling conclusion to the Kane Chronicles.
Hardcover
Where do you go when nowhere is safe?

Sixteen years after a deadly virus wiped out most of Earth's population, the world is a perilous place. Eighteen-year-old Eve has never been beyond the heavily guarded perimeter of her school, where she and two hundred other orphaned girls have been promised a future as the teachers and artists of the New America. But the night before graduation, Eve learns the shocking truth about her school's real purpose—and the horrifying fate that awaits her.

Fleeing the only home she's ever known, Eve sets off on a long, treacherous journey, searching for a place she can survive. Along the way she encounters Arden, her former rival from school, and Caleb, a rough, rebellious boy living in the wild. Separated from men her whole life, Eve has been taught to fear them, but Caleb slowly wins her trust... and her heart. He promises to protect her, but when soldiers begin hunting them, Eve must choose between true love and her life.
In t
his epic new series, Anna Carey imagines a future that is both beautiful and terrifying. Readers will revel in Eve's timeless story of forbidden love and extraordinary adventure.
eBook
A beautifully repackaged two-in-one reissue of Saving Zoe and Faking 19 by #1 New York Times bestselling author Alyson Noël
Secret wishes, hidden heartaches and painful truths. Everyone has them—but some secrets are harder to hide.
We usually tell our best friends everything. Our crushes, our embarrassing stories, our secrets—but sometimes there are truths so deep and dark that we can't tell anyone. Not our parents, not our sisters…not even our best friends. Some secrets are so unspeakable that we keep them safely locked away so no one will ever discover them.
But what happens when they become more than you can handle alone? In these two magnificent novels, two girls can't tell anyone about the terrible burdens they carry. But as they're about to learn, it's not our secrets that matter most—but those who still love us once they learn the truth.
Paperback
What happens when you fall in love with the perfect guy... twice... in one day?

Brenna Blixen spent her freshman year homeschooling in Denmark; now that she's back in the States, she's determined to make her sophomore year unforgettable. And by unforgettable, she imagined awesome classes, fun friendships, and maybe a little romance.

What she got was a whole lot of romance, and all at once.

The same day that dark, brooding Saxon Maclean charmed her with his killer good looks and whip-smart wit, Jake Kelly stole her breath away with his heart-wrenching smile and intelligent, thoughtful focus.

But Saxon is a proud player who makes it clear that he doesn't know why he can't get Brenna off of his mind and out of his system, and Jake's sweet and humble attitude hides a secret past life that might be more darker and more complex than Brenna's willing to handle.

Complicating the matter is the fact that Saxon and Jake were once best friends and are now arch-enemies... and the more Brenna finds out about their connection to each other, the more intrigued and worried she becomes.

Between keeping the peace with her lovingly over-protective parents, designing t-shirts for her high school's rising punk band, keeping up her grades in both academic and technical high school, and running the track like a maniac, Brenna has enough to worry about with out juggling two guys who make her heart thud and drive her crazy all at once.

She has to make a choice. But how can she when giving her heart to one of them might mean breaking the other's?
eBook
FEAR THE HEAT . . .

The White King has crossed the line, sounded the horn, sent out the wolves.

When blood is shed and life is lost the reality of Ari's position as both hunter and prey finally sets in. It seems her father will stop at nothing to force her will to his own, and distracted by Charlie's latest mistake and her seemingly misguided attraction to Jai, Ari never thought to fear anyone else but the Jinn King.

Blindsided and attacked, Ari learns a new wolf has joined the hunt. A dark sorcerer believes he knows a way to bleed the power of the Seal and wield it as his own, and he is even less patient than The White King.

The War for the Seal has only just begun . . . and it's time for Ari to turn it on its head.
It's time for Ari to stop acting like the hunted.

It's time for Ari to become the hunter.
eBook
Eden's life has taken a turn she would never have imagined. She's gone from soul eater to warrior, left behind a family she was ashamed of and moved in with one she admires. She has a purpose, a future, and . . . she has Noah.

Life should be good.

But . . . the most fervent and powerful soul eaters are determined to take down the Ankh and Eden is the key to the destruction of the warrior race.
Moreover, a shadowed enemy is still after Eden, and the mortal Warriors of Neith have chosen the worst time imaginable to start an uprising.

With an enemy in every corner the problems before her are overwhelming. Then again, Eden hasn't come this far to let anyone snatch her new life from her . . .
However, just when Eden thought she'd battled the monster within and won, the warrior who took something precious from her comes back into her life, tempting Eden to take a course of revenge there is no turning back from.
eBook
Enter a world of fierce wolves, stunning magic and romance . . .

Swept into the world of the Daylight Coven, Caia is caught between her loyalty to the Daylights and her new insight into the hearts of the Midnights. As more obstacles are thrown in her and Lucien's way, Caia is pushed further adrift from him and Pack Errante. With no one to turn to, Caia has to make the most difficult choice of all . . .

Who does she truly belong with? The Daylights or the Midnights?
eBook
Enter a world of fierce wolves, stunning magic and romance . . .
In the final installment of The Tale of Lunarmorte, Caia is caught between the most powerful beings in her world, and they are all desperate to use her for their own means. While Caia struggles to find her purpose, tragedy strikes close to home, and time runs out.
Now she must decide if she will join the extremists she was trying to destroy . . . or bring them all down on her own terms . . .

eBook
Gemma thought she was trapped—that Stephan had finally won. But then time resets and she's given another chance.

The clock is ticking as Gemma tries to figure out how to change the vision that ends the world in ice. If she can, then maybe she can save the world from Stephan and give her and Alex a chance at a real future. But changing visions can be dangerous, and sometimes one small mistake can lead to disastrous results.
eBook
My name is Gemma Lucas and my life's a mess. Alex is gone, my dad's trapped in his own mind, and my mom's working for the dark side. Not to mention Nicholas refuses to quit haunting me.

The world has also entered apocalyptic mode. Everyday more vampires, witches, and fey run the streets. Innocent people are dying. The Mark of Malefiscus is showing up everywhere. And I'm the only one who can stop it.


The only problem is I have to die in order to do so. And I have to let Alex die. Something I'm not sure I can do.
eBook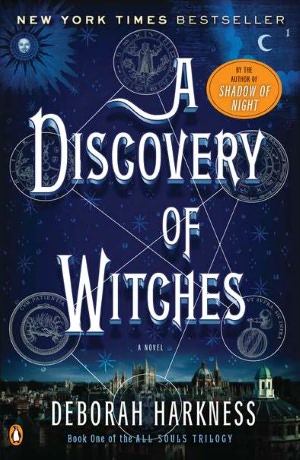 In a sparkling debut, A Discovery of Witches became the "it" book of early 2011, bringing Deborah Harkness into the spotlight and galvanizing fans around the world. In this tale of passion and obsession, Diana Bishop, a young scholar and the descendant of witches, discovers a long-lost and enchanted alchemical manuscript deep in Oxford's Bodleian Library. Its reappearance summons a fantastical underworld, which she navigates with her leading man, vampire geneticist Matthew Clairmont. Harkness has created a universe to rival those of Anne Rice, Diana Gabaldon, and Elizabeth Kostova, and she adds a scholar's depth to this riveting story of magic and suspense.
eBook
Months after moving to the mysterious city of Cognito, Silver is developing her gifts as a Mage, and learning how to live under new laws. Forced to give up her old life, she must now live in secret among the humans. She finally has hope of leading an ordinary life . . . until Logan Cross walks into it.

Their chance meeting leads her close to discovering the identity of the nameless Mage who once stole her light and discovered the unique power she possesses. That knowledge poses an unimaginable threat to Silver, fueling her search to find out who he is, before he finds her first.

Lives are at stake. Truths are revealed. And an unexpected passion ignites.
eBook