It's Monday! What Are You Reading is where we share what we read this past week, what we hope to read this week…. and anything in between! This is a great way to plan out your reading week and see what others are currently reading as well… you never know where that next "must read" book will come from!
She should not exist.
He should not love her.
Claire Brennan has been attending Emerson Academy for two years now (the longest she and her mom have remained anywhere) and she's desperate to stay put for the rest of high school. So there's no way she's going to tell her mom about the psychic visions she's been having or the creepy warnings that she's in danger.
Alec MacKenzie is fed up with his duties to watch and, when necessary, eliminate the descendants of his angelic forefathers. He chose Emerson as the ideal hiding place where he could be normal for once. He hadn't factored Claire into his plans. . . .
Their love is forbidden, going against everything Alec has been taught to believe. But when the reason behind Claire's unusual powers is revealed and the threat to her life becomes clear, how far will Alec go to protect her?
My Rating:
Jackson Godspeed is the hottest young Angel in a city filled with them. He's days away from becoming a full Guardian, and people around the world are already competing for the chance to be watched over by him. Everyone's obsessed with the Angels and the lucky people they protect - everyone except for Madison Montgomery.
Maddy's the one girl in Angel City who doesn't breathlessly follow the Angels on TV and gossip blogs. When she meets Jackson, she doesn't recognize him. But Jackson is instantly captivated by her, and against all odds the two fall in love.
Maddy is swiftly caught up in Jackson's scene, a world of glamour, paparazzi - and murder. A serial killer is on the loose, leaving dead Angels' wings for the police to find on the Walk of Fame. Even the Guardians are powerless to protect themselves in the face of this threat … and this time it's up to Maddy to save Jackson.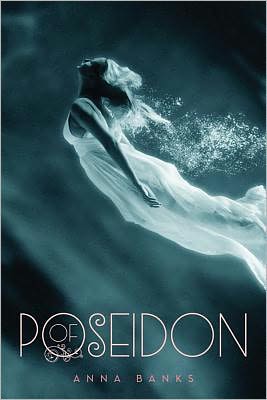 Galen, a Syrena prince, searches land for a girl he's heard can communicate with fish. It's while Emma is on vacation at the beach that she meets Galen. Although their connection is immediate and powerful, Galen's not fully convinced that Emma's the one he's been looking for. That is, until a deadly encounter with a shark proves that Emma and her Gift may be the only thing that can save his kingdom. He needs her help—no matter what the risk.
My Rating:
Grom is a mer-prince, pledged to marry the mermaid princess of an opposing kingdom in an effort to unite the lands under the waters. He dreads this arrangement until meets the princess Nalia – both beautiful and smart, she's everything he ever wanted. But just when their connection grows deeper, tragedy strikes.

Legacy Lost is a prequel story to Anna Banks' debut novel, Of Poseidon.
My Rating: