Bought:
It's one thing to learn to curtsy properly. It's quite another to learn to curtsy and throw a knife at the same time. Welcome to Finishing School.

Sophronia Temminnick at 14 is a great trial more interested in dismantling clocks and climbing trees than proper manners -- and the family can only hope that company never sees her atrocious curtsy. Her poor mother, desperate for her daughter to become a proper lady, enrolls the lively tomboy in Mademoiselle Geraldine's Finishing Academy for Young Ladies of Quality.

But young ladies learn to finish . . . everything. Certainly, they learn the fine arts of dance, dress, and etiquette, but they also learn to deal out death, diversion, and espionage -- in the politest possible ways, of course. Sophronia and her friends are in for a rousing first year's education.
Set in the same world as the Parasol Protectorate, this YA series debut is filled with all the saucy adventure and droll humor Gail's legions of fans have come to adore.
When Camille was six years old, she was discovered alone in the snow by Enrico Vultusino, godfather of the Seven—the powerful Families that rule magic-ridden New Haven. Papa Vultusino adopted the mute, scarred child, naming her after his dead wife and raising her in luxury on Haven Hill alongside his own son, Nico.

Now Cami is turning sixteen. She's no longer mute, though she keeps her faded scars hidden under her school uniform, and though she opens up only to her two best friends, Ruby and Ellie, and to Nico, who has become more than a brother to her. But even though Cami is a pampered Vultusino heiress, she knows that she is not really Family. Unlike them, she is a mortal with a past that lies buried in trauma. And it's not until she meets the mysterious Tor, who reveals scars of his own, that Cami begins to uncover the secrets of her birth…to find out where she comes from and why her past is threatening her now.

New York Times bestselling author Lili St. Crow thrilled legions of fans with her dark paranormal series Strange Angels. Now she has crafted an evocative update of Snow White, set in a vividly imagined world and populated by unforgettable new characters.
Darynda Jones, author of The New York Times bestselling series that began with First Grave on the Right, brings us Death and the Girl Next Door, a thrilling Young Adult novel garnering high praise and early buzz from major authors

Ten years ago, Lorelei's parents disappeared without a trace. Raised by her grandparents and leaning on the support of her best friends, Lorelei is finally beginning to accept the fact that her parents are never coming home. For Lorelei, life goes on.

High school is not quite as painful as she thinks it will be, and things are as normal as they can be. Until the day the school's designated loner, Cameron Lusk, begins to stalk her, turning up where she least expects it, standing outside her house in the dark, night after night. Things get even more complicated when a new guy—terrifying, tough, sexy Jared Kovach—comes to school. Cameron and Jared instantly despise each other and Lorelei seems to be the reason for their animosity. What does Jared know about her parents? Why does Cameron tell Jared he can't have Lorelei? And what will any of them do when Death comes knocking for real? Thrilling, sassy, sexy, and inventive, Darynda Jones's first foray into the world of teens will leave readers eager for the next installment.
Born the only female in an all male race, Jessica McClain isn't just different—she's feared.

After living under the radar for the last twenty-six years, Jessica is thrust unexpectedly into her first change, a full ten years late. She wakes up and finds she's in the middle of a storm. Now that she's become the only female full-blooded werewolf in town, the supernatural world is already clamoring to take a bite out of her and her new Pack must rise up and protect her.

But not everyone is on board. The werewolf Rights of Laws is missing text and the superstitious werewolves think that Jessica means an end to their race. It doesn't help when Jessica begins to realize she's more. She can change partway and hold her form, and speak directly to her wolf. But the biggest complication by far is that her alpha father can't control her like he can the rest of his wolves.

When a mercenary who's been hired by the vampires shows up to extract information about the newly turned werewolf only days after her change, they find themselves smack in the middle of a war and there's no choice but to run together. When it's up to Jessica to negotiate her release against her father's direct orders, she chooses to take an offer for help instead. In exchange, Jessica must now swear an oath she may end up repaying with her life.
Within the walls of Baalboden, beneath the shadow of the city's brutal leader, Rachel Adams has a secret. While other girls sew dresses, host dinner parties, and obey their male Protectors, Rachel knows how to survive in the wilderness and deftly wield a sword. When her father, Jared, fails to return from a courier mission and is declared dead, the Commander assigns Rachel a new Protector, her father's apprentice, Logan—the same boy Rachel declared her love for two years ago, and the same boy who handed her heart right back to her. Left with nothing but fierce belief in her father's survival, Rachel decides to escape and find him herself. But treason against the Commander carries a heavy price, and what awaits her in the Wasteland could destroy her.

At nineteen, Logan McEntire is many things. Orphan. Outcast. Inventor. As apprentice to the city's top courier, Logan is focused on learning his trade so he can escape the tyranny of Baalboden. But his plan never included being responsible for his mentor's impulsive daughter. Logan is determined to protect her, but when his escape plan goes wrong and Rachel pays the price, he realizes he has more at stake than disappointing Jared.

As Rachel and Logan battle their way through the Wasteland, stalked by a monster that can't be killed and an army of assassins out for blood, they discover romance, heartbreak, and a truth that will incite a war decades in the making.
In Tempest Rising, Tempest chose to return to the sea, following in her mother's footsteps and forging a relationship with the selkie Kona. Now many months have gone by, and she yearns to see her family again. Life under the ocean is full of rigorous training to eventually take over the throne, which leads to Tempest's powers growing and manifesting in new ways. When Tiamat, Tempest's power-hungry nemesis, attacks Tempest's brother Moku on land, she returns to his side, which also brings her back to her old flame, Mark. But was the attack calculated to get Tempest out of the way? As the battle rages, Tempest's two loves will collide to both protect her and force her to choose. And when the biggest casualty of all befalls the merpeople-the Queen loses her life-will Tempest be able, or willing, to take over the throne?
eBook
Embrace the Forbidden
What if there were teens whose lives literally depended on being bad influences?
This is the reality for sons and daughters of fallen angels.
Tenderhearted Southern girl Anna Whitt was born with the sixth sense to see and feel emotions of other people. She's aware of a struggle within herself, an inexplicable pull toward danger, but Anna, the ultimate good girl, has always had the advantage of her angel side to balance the darkness within. It isn't until she turns sixteen and meets the alluring Kaidan Rowe that she discovers her terrifying heritage and her willpower is put to the test. He's the boy your daddy warned you about. If only someone had warned Anna.
Forced to face her destiny, will Anna embrace her halo or her horns?
eBook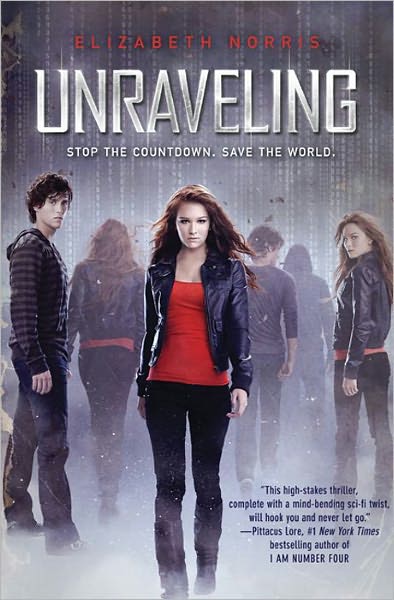 Reminiscent of Before I Fall, Elizabeth Norris's Unraveling blends realistic coming-of-age issues and heart-stopping romance with something just a little bit more. In this case, a gripping science fiction world.

Unraveling's heroine, seventeen-year-old Janelle Tenner, is used to having a lot of responsibility. She balances working as a lifeguard in San Diego with an intense academic schedule. Janelle's mother is bipolar, and her dad is a workaholic FBI agent, which means Janelle also has to look out for her younger brother.
And that was before she died . . . and is brought back to life by Ben Michaels, a mysterious, alluring loner from her high school. The more Janelle tries to figure him out, the more she starts to believe he's connected to a case her father is working on. The one where people are dying of radiation poisoning and the body count is rising. The one that involves a strange clock that seems to be counting down to the earth's destruction. If Janelle wants to stop the clock and save the world, she has twenty-four days to uncover Ben's secrets--and keep from falling in love with him.
From debut author Elizabeth Norris, comes this shattering novel of one girl's fight to save herself, her world, and the boy she never saw coming.
eBook
Do you believe in true love? Sarah Samson didn't until she met hers. But for Sarah, meeting the guy of her dreams came with a price. On the outside Sarah looks like she has it all, friends, a loving family, and a hobby she's really good at. But if you look closer, Sarah's keeping secrets, from everyone in her life, even . . . Lucas. A boy she hardly knows, but still feels a connection with.

Life would be perfect, if it wasn't for the constant feeling that someone is following her. She feels a presence everywhere she goes, work, home, even . . . in her dreams.

She suddenly finds herself wrapped up in a dangerous mystery that started eighty years ago involving two tragic deaths. After several attempts on her life, she and Lucas realize they must solve it before history repeats itself.
eBook
Can Fate be wrong? When all signs point to a certain someone, do you just blindly follow? What if that person turns out to be someone you hate? Could Destiny be so cruel? Lisa Miller is busy with family, work, friends, and . . . revenge. Her last summer in high school should be spent, having fun. But ever since Logan Tate played a prank on her, she spends all of her free time trying to get even.

Unfortunately Logan's not making it easy for her, he's trying to convince her that he has changed. But she is not fooled by his charming personality, and stunning good looks. No one can change that drastically.

Things aren't much better at home. Ever since her father left a year and a half ago, she refuses to speak to him, causing tension with her mother and sister.

As if she didn't have enough problems, someone is sending prank emails and phone calls, mysteriously knowing about her dreams. Who would do such a thing, and how could they know?
eBook
The Fateful Trilogy continues with Fractured. No, it's not called Fractured because Ethan and Danielle break up, because they don't . . . in case you were wondering.

They had thought they'd escaped most of the danger surrounding them, when in truth they've made it worse by unintentionally sparking a civil war amongst vampires. Many vampires want to protect them for discovering the cure to the curse binding their kind. However many more want to destroy them for that same discovery.

Ethan's and Danielle's struggle for survival intensifies while they sink deeper into the midst of this danger. The romantic fairytale bliss they once had will soon fracture under the pressure of the curse . . . .
eBook