Bought:
Fall under the spell of Wake—the first book in an achingly beautiful new series by celebrated author Amanda Hocking—and lose yourself to the Watersong.
Gorgeous. Fearless. Dangerous. They're the kind of girls you envy; the kind of girls you want to hate. Strangers in town for the summer, Penn, Lexi and Thea have caught everyone's attention—but it's Gemma who's attracted theirs. She's the one they've chosen to be part of their group.
Gemma seems to have it all—she's carefree, pretty, and falling in love with Alex, the boy next door. He's always been just a friend, but this summer they've taken their relationship to the next level, and now there's no going back. Then one night, Gemma's ordinary life changes forever. She's taking a late night swim under the stars when she finds Penn, Lexi and Thea partying on the cove. They invite her to join them, and the next morning she wakes up on the beach feeling groggy and sick, knowing something is different.
Suddenly Gemma is stronger, faster, and more beautiful than ever. But her new powers come with a terrifying price. And as she uncovers the truth, she's is forced to choose between staying with those she loves—or entering a new world brimming with dark hungers and unimaginable secrets.
Chronicling the rise of the Keepers, this is the stunning prequel to Andrea Cremer's internationally bestselling Nightshade trilogy!

Sixteen-year-old Ember Morrow is promised to a group called Conatus after one of their healers saves her mother's life. Once she arrives, Ember finds joy in wielding swords, learning magic, and fighting the encroaching darkness loose in the world. She also finds herself falling in love with her mentor, the dashing, brooding, and powerful Barrow Hess. When the knights realize Eira, one of their leaders, is dabbling in dark magic, Ember and Barrow must choose whether to follow Eira into the nether realm or to pledge their lives to destroying her and her kind.

With action, adventure, magic, and tantalizing sensuality, this book is as fast-paced and breathtaking as the Nightshade novels.
Hardcover
More than anything, Tom Raines wants to be important, though his shadowy life is anything but that. For years, Tom's drifted from casino to casino with his unlucky gambler of a dad, gaming for their survival. Keeping a roof over their heads depends on a careful combination of skill, luck, con artistry, and staying invisible.
Then one day, Tom stops being invisible. Someone's been watching his virtual-reality prowess, and he's offered the incredible—a place at the Pentagonal Spire, an elite military academy. There, Tom's instincts for combat will be put to the test and if he passes, he'll become a member of the Intrasolar Forces, helping to lead his country to victory in World War III. Finally, he'll be someone important: a superhuman war machine with the tech skills that every virtual-reality warrior dreams of. Life at the Spire holds everything that Tom's always wanted—friends, the possibility of a girlfriend, and a life where his every action matters—but what will it cost him?
Gripping and provocative, S. J. Kincaid's futuristic thrill ride of a debut crackles with memorable characters, tremendous wit, and a vision of the future that asks startling, timely questions about the melding of humanity and technology.
Dancia Lewis doesn't seem all that special. And that's not just because of her average grades or less-than-glamorous wardrobe. In fact, Dancia's mediocrity is a calculated cover for her secret: whenever she sees a person threatening someone she cares about, things just . . . happen. Cars skid. Structures collapse. Usually someone gets hurt.
When recruiters from the prestigious Delcroix Academy show up in her living room to offer her a full scholarship, Dancia suspects the recruiters know more about her "gift" than they're letting on. Once she arrives at the mysterious school, Dancia worries that her days of living under the radar are over. Even the hottest guy on campus treats her like she's a one-of-a-kind.
And then there's her elusive new friend, Jack, who thinks Delcroix is hiding a dangerous secret. Dancia doesn't know who to trust. A battle is brewing behind the gates of the Academy, and Dancia may have no choice but to pick sides . . . even if it means finally stepping out of the shadows.
All of her life, Dancia Lewis has wanted to use her powers for good. And now that she's learned the truth about Delcroix Academy—and herself—she may just get the chance. But being part of Delcroix's top secret Program isn't anything like Dancia expected. She has to ask herself: what happens to the Talented kids who refuse to pledge their loyalty to the Program? And why did her friend Jack run away rather than join? Dancia's adorable boyfriend Cam insists they need the help of every Talented student to defend Delcroix from dangerous enemies outside their gates. But Dancia has to wonder: what if Delcroix's most frightening enemies come from within?
eBook
Jessica Walsh is starting her freshman year at Nightshade High and trying to forget about the tragic events surrounding her brother's graduation. She wants to have a normal high school experience. But that's easier said than done in Nightshade.

When a new boy shows up at school, the girls are infected with a case of seriously creepy crushes. But when their obsession turns to violence, Jessica and her friends start to wonder if there's more going on than just a little friendly rivalry. Are the smitten girls turning into love zombies?

And Jessica has other worries—like her crush on Dominic Gray, the cute but moody new singer for Side Effects May Vary, and the mysterious tattoo that appeared on her arm one day and lets her know whenever there is trouble brewing. Jessica learns she's a Virago, a woman warrior chosen to fight evil whenever it threatens her hometown. But does a lowly freshman really have what it takes to keep Nightshade safe?
eBook
What's a girl to do when meeting The One means she's cursed to die a horrible death?
Life hasn't been easy on sixteen-year-old Emma Conner, so a new start in New York may be just the change she needs. But the posh Upper East Side prep school she has to attend? Not so much. Friendly faces are few and far between, except for one that she's irresistibly drawn to—Brendan Salinger, the guy with the rock-star good looks and the richest kid in school, who might just be her very own white knight.
But even when Brendan inexplicably turns cold, Emma can't stop staring. Ever since she laid eyes on him, strange things have been happening. Streetlamps go out wherever she walks, and Emma's been having the oddest dreams: visions of herself in past lives—visions that warn her to stay away from Brendan. Or else.
eBook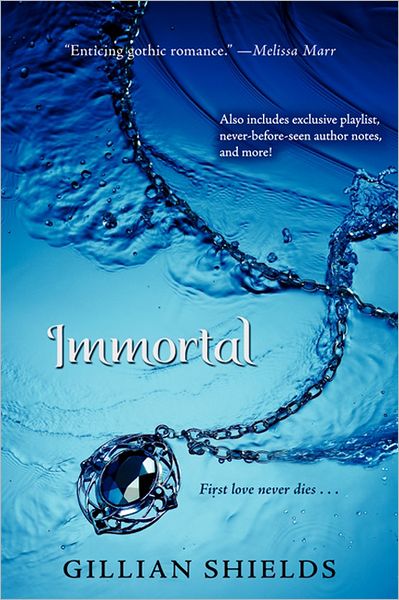 For a limited time, this special edition of Immortal includes a teaser to the final book in the series, Destiny, as well as never-before-seen extras from author Gillian Shields, including a playlist and early notes from the beginning of the series.

Welcome to Wyldcliffe, the place that haunts my present, my past, and my future.

Wyldcliffe Abbey School for Young Ladies is elite, expensive, and unwelcoming. When Evie Johnson is torn from her home near the sea to become the newest scholarship student, strict teachers, snobbish students, and the oppressive atmosphere of Wyldcliffe leave her drowning in loneliness.
Evie's only lifeline is Sebastian, a mysterious and attractive young man she meets by chance. As Evie's feelings for Sebastian blaze with each secret meeting, she begins to fear that he is hiding something about his past. And she is haunted by glimpses of a strange, ghostly girl—a girl who is so eerily like Evie she could be a sister. Evie is slowly drawn into a tangled web of past and present that she cannot control. As the extraordinary, elemental forces of Wyldcliffe rise up like the mighty sea, Evie is faced with an astounding truth about Sebastian, and her own incredible fate.
There are the small betrayals: the unkind word, the petty lies. And there are the betrayals that break hearts, destroy worlds, and turn the strong sweet light of day into bitter dust.

When Evie Johnson started at Wyldcliffe Abbey School for Young Ladies, her life changed in ways she couldn't possibly have envisioned: the discovery of her link with Lady Agnes, her special bond with Helen and Sarah, and their sisterhood in the astonishing secrets of the Mystic Way. Above all, Evie's love for Sebastian has turned her world upside down.

Now Evie returns to Wyldcliffe for another term and more danger. Surrounded by enemies, she lives every day in fear that Sebastian will fall into the darkness of servitude to the Unconquered Lords. The Wyldcliffe coven is plotting to destroy Evie and use Sebastian to secure their own immortality. Evie and her sisters must master the power of the Talisman before it is too late. But could it be Sebastian himself who will ultimately betray Evie?
In this companion to Gillian Shields's dazzling Immortal, magic and sweeping romance cross the bounds of time to deliver heart-stopping emotion and suspense.
eBook
Kassandra Cole has it all—a stable home with great parents, popularity and all the friends she could ever need. She is used to a lifestyle where everything comes easy to her, from good grades to being captain of the cheerleading squad.

Her entire world is shaken to the core when a fatal accident takes her father, causing Kassandra to re-examine the course her life was on. The actions of one individual forever changes her life, leaving her to pick up the pieces of her broken family. Kassandra begins to question everything she once cherished and the people she disappointed along the way.

Maddon Johnson's life is as different from Kassandra's as night and day. Abandoned by his mother at a young age, he is left to deal with his abusive, alcoholic father on his own. He has one goal, lay low and get the heck out of dodge as soon as he is legally old enough.

Everything changes when his father's tragic actions send Maddon crashing into Kassandra's world. Suddenly, getting away is the last thing he wants as he discovers it is possible to believe in love after all.
eBook
The witching hour has arrived in bestselling author H. P. Mallory's captivating and sexy new novel, starring the most dazzling denizen of the undead, Jolie Wilkins.

Funny and feisty witch Jolie Wilkins is back—or rather, she's back to her humble beginnings. Propelled into the past to her old Los Angeles fortune-telling shop, Jolie has no idea she possesses extraordinary powers, and she definitely doesn't remember becoming Queen of the Underworld. But at least she has two incredibly sexy men vying for her affection: Rand Balfour, who looks very familiar, though Jolie can't place his gorgeous face, and Sinjin Sinclair, who is tall, dark, and perfect . . . except for the fangs.

Yet despite her steamy love life, Jolie can't shake the sense that something is not quite right—like she's stuck in a déjà vu gone terribly awry. As both men race against time—and each other—to win Jolie's heart, the fate of the Underworld hangs in the balance. And Jolie's decision can either restore order or create an absolute, drop-dead disaster.
In a world where being of mixed-blood is a major liability, Sabina Kane has the only profession fit for an outcast: assassin. But, her latest mission threatens the fragile peace between the vampire and mage races and Sabina must scramble to figure out which side she's on. She's never brought her work home with her---until now.
This time, it's personal.