Bought:
Anna Emerson is a thirty-year-old English teacher desperately in need of adventure. Worn down by the cold Chicago winters and a relationship that's going nowhere, she jumps at the chance to spend the summer on a tropical island tutoring sixteen-year-old T.J.

T.J. Callahan has no desire to go anywhere. His cancer is in remission and he wants to get back to his normal life. But his parents are insisting he spend the summer in the Maldives catching up on all the school he missed last year.

Anna and T.J. board a private plane headed to the Callahan's summer home, and as they fly over the Maldives' twelve hundred islands, the unthinkable happens. Their plane crashes in shark-infested waters. They make it to shore, but soon discover that they're stranded on an uninhabited island.

At first, their only thought is survival. But as the days turn to weeks, and then months, the castaways encounter plenty of other obstacles, including violent tropical storms, the many dangers lurking in the sea, and the possibility that T.J.'s cancer could return. As T.J. celebrates yet another birthday on the island, Anna begins to wonder if the biggest challenge of all might be living with a boy who is gradually becoming a man.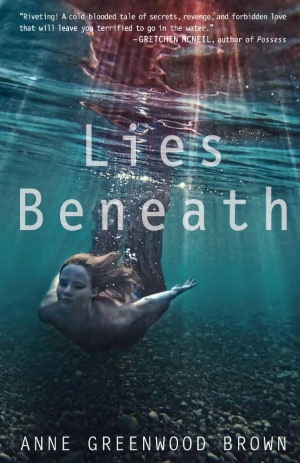 Calder White lives in the cold, clear waters of Lake Superior, the only brother in a family of murderous mermaids. To survive, Calder and his sisters prey on humans and absorb their positive energy. Usually, they select their victims at random, but this time around, the underwater clan chooses its target for a reason: revenge. They want to kill Jason Hancock, the man they blame for their mother's death.

It's going to take a concerted effort to lure the aquaphobic Hancock onto the water. Calder's job is to gain Hancock's trust by getting close to his family. Relying on his irresistible good looks and charm, Calder sets out to seduce Hancock's daughter Lily. Easy enough, but Calder screws everything up by falling in love--just as Lily starts to suspect there's more to the monster-in-the-lake legends than she ever imagined, and just as the mermaids threaten to take matters into their own hands, forcing Calder to choose between them and the girl he loves.

One thing's for sure: whatever Calder decides, the outcome won't be pretty.
eBook
The human race is all but extinct after a war with Partials—engineered organic beings identical to humans—has decimated the population. Reduced to only tens of thousands by RM, a weaponized virus to which only a fraction of humanity is immune, the survivors in North America have huddled together on Long Island while the Partials have mysteriously retreated. The threat of the Partials is still imminent, but, worse, no baby has been born immune to RM in more than a decade. Our time is running out.

Kira, a sixteen-year-old medic-in-training, is on the front lines of this battle, seeing RM ravage the community while mandatory pregnancy laws have pushed what's left of humanity to the brink of civil war, and she's not content to stand by and watch. But as she makes a desperate decision to save the last of her race, she will find that the survival of humans and Partials alike rests in her attempts to uncover the connections between them—connections that humanity has forgotten, or perhaps never even knew were there.
Dan Wells, acclaimed author of I Am Not a Serial Killer, takes readers on a pulsepounding journey into a world where the very concept of what it means to be human is in question—one where our humanity is both our greatest liability and our only hope for survival.
eBook
Convinced she's a part of the witness protection program, sixteen-year-old Jewel Rose is shuffled around the globe with her family like a pack of traveling gypsies. After arriving at lucky home twenty-seven, she stumbles upon a mysterious boy with magical powers claiming to be her guardian . . . and warning of imminent danger. Despite the obvious sparks between them, Jewel discovers a relationship is forbidden, and the more she learns about dark, brooding Roman, she begins to question who she can even believe—the family who raised her, or the supposed sworn protector who claims they've been lying to her all along.

As she struggles to uncover who her family has really been running from, she is forced to hide her birthmark that reveals who she is. With new realities surfacing, unexplained powers appearing, and two tempting boys vying for her heart, Jewel battles to learn who she can trust in an ever growing sea of lies, hoping she'll make it through her seventeenth birthday alive.
eBook
"She was mine. I owned her soul . . . until Death stole her heart."

LEIF is a novella from the Existence series. It is glimpses into Leif's point-of-view during both Existence and Predestined. Also, each digital copy of LEIF has a free download for Dank Walker (AKA Death) newest song - Closer.
eBook
A
va-Claire Sullivan still doesn't follow the rules. She shouldn't have let Peter Claim her, turning her into his own personal blood bank. She shouldn't have told Tex Peter was immortal because now her best friend won't shut up about hooking up with Peter's equally immortal brother, Viktor. And she shouldn't have fallen in love with Peter.

Too late.

Sometimes, love kills. One promise Peter made nearly a hundred years ago could do it. A kiss, a touch could be the end of him. So all she has to do is not let him fall in love with her. Easier said than done.

But Ava's going to find a way for him to be free, even if it kills her. Or makes her immortal. There's no way she's losing Peter in addition to her mother. No freaking way.

What would you do when the one you love would die if they loved you back?
"With one last look, one final search of the lines of his face for some sign, Kira turned and ran away from the sound of the man she loved laughing in the face of her death."

When Kira Dawson moves to South Carolina, she meets Luke, a blond goofball who quickly becomes her best friend, and Tristan, a mysterious bad boy who sends shivers down her spine. Kira knows they're keeping secrets, but when she discovers Tristan's lust for blood and her own dormant mystical powers, Kira is forced to fight for her life and make the heartbreaking decision between the familiar comfort of friendship and the fiery passion of love.
eBook
"Slowly, like a whisper almost blown away in the wind, two words streaked across her mind: 'Kiss me.'"

Kira may have survived the eclipse, but her troubles are far from over. She's headed to Sonnyville with one goal in mind: to learn more about her parents. But with Luke and Tristan competing for her heart and Diana gunning for her head, time is running out on the search for her mother. And the closer Kira gets to answers, the more terrified she becomes. The conduits fear her, the vampires fear her, and Kira is starting to wonder if maybe they're right . . .