In My Mailbox is a weekly meme hosted by

The Story Siren

to share what books you've bought, borrowed, received, or won (if your lucky).
Bought:
In a future world, Vampires reign. Humans are blood cattle. And one girl will search for the key to save humanity.

Allison Sekemoto survives in the Fringe, the outermost circle of a vampire city. By day, she and her crew scavenge for food. By night, any one of them could be eaten.

Some days, all that drives Allie is her hatred of them. The vampires who keep humans as blood cattle. Until the night Allie herself is attacked—and given the ultimate choice. Die… or become one of the monsters.

Faced with her own mortality, Allie becomes what she despises most. To survive, she must learn the rules of being immortal, including the most important: go long enough without human blood, and you will go mad.

Then Allie is forced to flee into the unknown, outside her city walls. There she joins a ragged band of humans who are seeking a legend—a possible cure to the disease that killed off most of humankind and created the rabids, the mindless creatures who threaten humans and vampires alike.

But it isn't easy to pass for human. Especially not around Zeke, who might see past the monster inside her. And Allie soon must decide what—and who—is worth dying for.
eBook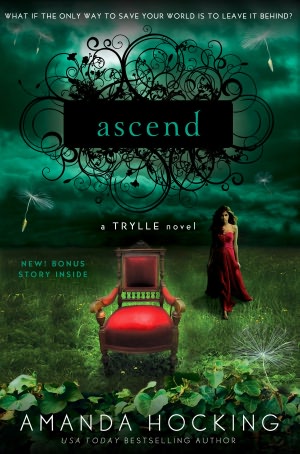 Wendy Everly is facing an impossible choice. The only way to save the Trylle from their deadliest enemy is by sacrificing herself. If she doesn't surrender to the Vittra, her people will be thrust into a brutal war against an unbeatable foe. But how can Wendy leave all her friends behind…even if it's the only way to save them?
The stakes have never been higher, because her kingdom isn't the only thing she stands to lose. After falling for both Finn and Loki, she's about to make the ultimate choice…who to love forever. One guy has finally proven to be the love of her life—and now all their lives might be coming to an end.
Everything has been leading to this moment. The future of her entire world rests in her hands—if she's ready to fight for it.
Kate Winters has won immortality. But if she wants a life with Henry in the Underworld, she'll have to fight for it.
Becoming immortal wasn't supposed to be the easy part. Though Kate is about to be crowned Queen of the Underworld, she's as isolated as ever. And despite her growing love for Henry, ruler of the Underworld, he's becoming ever more distant and secretive. Then, in the midst of Kate's coronation, Henry is abducted by the only being powerful enough to kill him: the King of the Titans.

As the other gods prepare for a war that could end them all, it is up to Kate to save Henry from the depths of Tartarus. But in order to navigate the endless caverns of the Underworld, Kate must enlist the help of the one person who is the greatest threat to her future.

Henry's first wife, Persephone.
Fed up with her wild behavior, sixteen-year-old Lex's parents ship her off to upstate New York to live with her Uncle Mort for the summer, hoping that a few months of dirty farm work will whip her back into shape. But Uncle Mort's true occupation is much dirtier than shoveling manure.

He's a Grim Reaper. And he's going to teach Lex the family business.

She quickly assimilates into the peculiar world of Croak, a town populated by reapers who deliver souls from this life to the next. But Lex can't stop her desire for justice—or is it vengeance?—whenever she encounters a murder victim, craving to stop the attackers before they can strike again. Will she ditch Croak and go rogue with her reaper skills?
A troubled soul. An impossible choice. A final battle.
Wrestling with the werewolf curse pulsing deep inside of her, Grace Divine was finally able to find her brother, but it nearly cost her everything.

With her boyfriend, Daniel, stuck in wolf form and Sirhan's death approaching, time is running out for Grace to stop Caleb Kalbi and his gang of demons. If she fails, her family and hometown will perish. Everything rests on Grace's shoulders.

The final installment in The Dark Divine trilogy brings Daniel and Grace's love story to a breathtaking conclusion.
eBook
It starts with a whisper: "It's time for you to know who you are..."
On her 17th birthday, everything will change for Violet Eden. The boy she loves will betray her. Her enemy will save her. She will have to decide just how much she's willing to sacrifice.

Dangerously exciting and darkly romantic, EMBRACE is a compelling novel of good and evil, seductive desires and impossible choices. A centuries old war between fallen angels and the protectors of humanity chooses a new fighter. It's a battle Violet doesn't want, but she lives her life by two rules: don't run and don't quit. If angels seek vengeance and humans are the warriors, you could do a lot worse than betting on Violet Eden.

LINCOLN: He's been Violet's one anchor, her running partner and kickboxing trainer. Only he never told her he's Grigori—part human, part angel—and that he was training her for an ancient battle between Angels and Exiles.

PHOENIX: No one knows where his loyalties lie, yet he's the only one there to pick up the pieces and protect her after Lincoln's lies. In a world of dark and light, he is all shades of gray.


Two sides: Angel or Exile.

Two guys: Lincoln or Phoenix.

The wrong choice could cost not only her life, but her eternity...

eBook
Rileigh Martin would love to believe that adrenaline had given her the uncanny courage and strength to fend off three muggers. But it doesn't explain her dreams of 15th-century Japan, the incredible fighting skills she suddenly possesses, or the strange voice giving her battle tips and danger warnings. While worrying that she's going crazy (always a reputation ruiner), Rileigh gets a visit from Kim, a handsome martial arts instructor, who tells Rileigh she's harboring the spirit of a five-hundred-year-old samurai warrior.

Relentlessly attacked by ninjas, Rileigh has no choice but to master the katana—a deadly Japanese sword that's also the key to her past. As the spirit grows stronger and her feelings for Kim intensify, Rileigh is torn between continuing as the girl she's always been and embracing the warrior inside her.
eBook
In Book Two of L. A. Weatherly's wildly romantic, action-packed trilogy, the angels are back with a vengeance . . . and they don't have heaven in mind.

In the wake of the Second Wave, the angel menace has exploded, and Alex and Willow are on the lam. Willow's prophetic dream points them to Mexico City, where they connect with a fledgling group of angel killers led by the exotically beautiful Kara, an Angel Killer from Alex's past. But the team remains suspicious of Willow, even after the more-experienced Alex takes over as leader, training them hard for a rush attack on the Seraphic Council, or "The Twelve." This elite group of all-powerful angels is also under the scrutiny of Willow's angel-father, Raziel, who has his own sinister plan to defeat them.

What Willow hasn't told Alex is that there was also a mysterious boy in her dream, one she felt overpoweringly attracted to. When brooding, gorgeous Seb shows up in the flesh, he turns out to be another—possibly the world's only other—half angel. He's been searching for Willow all his life, and when Alex enlists this rival to help keep Willow safe, he can't predict what chemistry will pass between them . . . or how far Willow might go to keep Alex safe. Will their love endure or spell doomsday for the human race?
It's one thing to find out you're a vampire princess. It's a whole other thing to actually rule. Newly married Jessica Packwood is having a hard enough time feeling regal with her husband, Lucius, at her side. But when evidence in the murder of a powerful elder points to Lucius, sending him into solitary confinement, Jessica is suddenly on her own. Determined to clear her husband's name, Jessica launches into a full-scale investigation, but hallucinations and nightmares of betrayal keep getting in her way. Jessica knows that with no blood to drink, Lucius's time is running out. Can she figure out who the real killer is—and whom she can trust—before it's too late?
Exclusive e-book content includes twenty-one additional chapters that tell all the details of the beautiful and romantic wedding of Jessica and Lucius that takes place in the time between
Jessica's Guide to Dating on the Dark Side and
Jessica Rules the Dark Side
.
eBook
Gemma, 16, is on layover at Bangkok Airport, en route with her parents to a vacation in Vietnam. She steps away for just a second, to get a cup of coffee. Ty - rugged, tan, too old, oddly familiar - pays for Gemma's drink. And drugs it. They talk. Their hands touch. And before Gemma knows what's happening, Ty takes her. Steals her away. The unknowing object of a long obsession, Gemma has been kidnapped by her stalker and brought to the desolate Australian Outback.

Stolen is her gripping story of survival, of how she has to come to terms with her living nightmare - or die trying to fight it.
"I Know Your Secret . . ."
Boarding school junior Stacey Brown has nightmares too real to ignore. Her nightmares come true. This time they're about Drea, her best friend who's become the target of one seriously psycho stalker. To try and protect her, Stacey's working with what she knows-candles, cards, incantations, and spells...
In this Deluxe Spellbook Edition you'll find:
Spells created by You and other keepers of secrets-poems, spells and meditations contributed by fans of this popular series. Extras also include an interview with the author.
eBook
Briar Thompson had it all. The right clothes, the right friends, the right car. Being popular was all that mattered. Her parents were rich and treated like royalty throughout the community. She thought her senior year of high school was going perfectly, until the night her drink was spiked at a party by one of her so called friends.

That was the night she met Chase McCree.

Chase wanted to go back to Montana. To the ranch and the wild, wide blue sky that went on forever. He wanted nothing to do with flashy cars or spoiled rich kids. But he found himself head over boots for the quirky cheerleader who turned her back on her social status. She befriended him when no one else would.

Shunned and hurt by the people who were once her friends, Briar flees with Chase to his family ranch in Montana. There she discovers another world, and apart of herself she never knew.

The cowboy wasn't like anyone she'd ever met. The cheerleader wasn't like anyone he'd ever met. Apart their lives didn't seem to make sense, but together, they were chasing forever.
eBook
Courtesy of watching his mom's relationships, Sebastian Hawkins knows what girls need to do to get a guy. He has what he considers a PHD in hooking up. When he needs extra cash for a car, Sebastian starts up an online venture as The Hook-up Doctor, to anonymously help girls land the guy of their dreams. Of course, his services don't offer a happily-ever-after guarantee. He's seen firsthand getting together never means staying together.

And then he falls in love…

With the last girl he would expect…

Totally not in his game plan.

Suddenly, Sebastian finds himself muddled in the game he's always prided himself on. He can't even pick up girls at parties anymore! Why would anyone want to be in love when it turns you into a stuttering, screwed-up, mess with really lame stalker tendencies? Stalking? Totally not his gig.

But the Hook-up Doctor won't let himself go down easily. He's always known how to give a girl what she wants and now it's time to figure out what a boy wants… and he definitely plans on getting it.
eBook
Won:
Signed
Wishing For Someday Soon & The Saving Angels series picture set from Tiffany King. Tiffany also sent me an extra set which I'm giving away HERE.